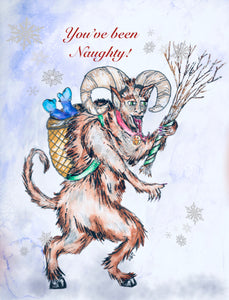 Sold in bundles of 10 cards,with envelopes. Cards measure 4.25 inches by 5.5 inches.
The perfect holiday card for anyone on the "naughty list"! The inside is left blank, so you can write a personalized message.

In Central European folklore, Krampus is a frightening, horned figure who, during the Christmas season, punishes naughty children. In many countries, he is known as a companion of St. Nicholas. In contrast with St. Nicholas, who rewards the well-behaved kiddies with gifts, Krampus carries a bundle of sticks to beat them, and then he carries them away in the large basket he wears on his back. 

Original, hand drawn artwork created with watercolors, ink, and digital embellishments.